Adam Gilham
Senior Economist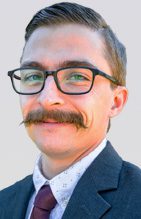 Contact: agilham@cfes.com
Adam Gilham is a Senior Economist at the Center for Forensic Economic Studies. Adam joined the Center in 2015 and has primarily analyzed economic damages in personal injury and wrongful death matters. Adam specializes in damages suffered by United States military personnel, by foreign nationals employed by the United States, and by individuals impacted abroad who hold dual-citizenship. Adam has also worked closely with Project One Vet @ A Time ("POVAT") in analyzing the value added by POVAT to disabled veterans.
Adam serves as an expert witness at mock trials conducted at Temple University School of Law's Academy of Trial Advocacy. Adam has also served as an expert witness at several local law firms' trial advocacy programs.
Adam received his Bachelor's degree in Management Information Systems from Shippensburg University of Pennsylvania.